Understand & React
—
User centric design is at the very core of our approach as understanding the human interactions within a product is critical to the success of any product. By employing a design process in which stakeholder's influence how a design is formed we gain a deep understanding of every touch point in a products lifecycle.
We have conducted focus groups in environments ranging from classrooms in secondary schools to deep underground in the UK's biggest coalmines. Using the research as a framework we produce a range of designs using traditional industrial design skills, from sketch work to simple models. These initial thoughts promote discussion within the client team and ultimately lead to an agreed concept.
This is arguable the most important part of the process as the choices made form the foundation for the final product outcome. We also start our discussions with potential suppliers during the stage where we can obtain ball park capital investment and unit costs.
Test
—
Once we have an agreed concept for development the focus if then placed on getting to a physical representation of the design as quickly as possible. Dependant on the project this can range from simple hand carved form models to Stereo Lithography models (SLA and SLS).
These early representations are primarily for discussion between the client group and design team quickly followed by testing in focus groups in the use environment and where appropriate functional testing.
There a number of different processes available for model production. Internally we have capabilities for hand carving foam, FDM and CNC facilities. We also have partnerships with a number of UK's leading model making specialists where we can produce components for functional testing, high quality presentation models and multiple prototypes (30-40) for field testing.
The objective is to obtain the maximum amount of varied feedback prior to any significant investment in design and tooling.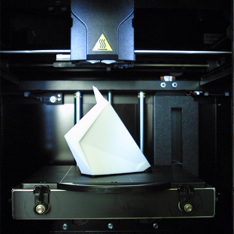 Construct
—
The emphasis in this stage is to create all of the data required to take the concept forward to the production stage. Almost all projects are now controlled in 3D CAD and we have a high level of experience in 3D modelling and designing components for efficient manufacturing.
Siemens Ideas NX is our main software platform. We use Ideas to rapidly build detailed assemblies and provide accurate data for final development prototypes and ultimately for use in tooling with our production partners. Our knowledge of CAD and production, together with the way we work concurrently with our suppliers ensures that we develop efficient solutions, leading to production cost savings for our clients.
Prior to the final data we always validate the geometry with a final functional prototype where any final tweaks can be implemented easily.
On finalising the design data we transferred a full set of engineering drawings and a Bill Of Materials (BOM) to the supply chain.
Implement
—
Where appropriate PDu can source toolmakers, moulders and other component manufacturers in the UK and overseas.
We liaise with the suppliers throughout the project and this typically starts during the concept development stage. We feel it is very important for suppliers to have a connection to the way the product is developed so when the final data is transferred there is a high level of knowledge to the critical aspects in the design. Once the final data and BOM are transferred the process moves onto the pre production stage.
This includes tooling design liaison, GA sign off and tooling manufacturing project management, T1 samples and organisation of samples for BETA testing. On attaining the quality standards required for the product the design will be signed off for production. We will conduct a formal hand over of responsibility to the client providing with full BOM as well as 2D and 3D data.
Observe
—
Although the project has been formally handed over to the client we still play an active role in the product life cycle. We are in regular contact with our clients to keep up to date with how the product is performing in the field and for guidance and advice.
We also keep in regular contact with suppliers to see how the components and tooling is performing. All of this feedback and knowledge it then fed into future projects.